Maarit Salolainen works as a creative director and textile designer in the international textile industry. Currently she is the creative director of the Turkish textile mill Vanelli guiding the design team in developing new concepts, products and collections for international design brands and interior textile editors such as JAB Anstoez, Zimmer + Rohde, Kravet and Casamance, Sanderson Group and the ROMO Group. vanellitextile.com
Salolainen's expertise lies in the creative and technical knowledge of woven fabrics, jacquards, prints, embroideries, laser cuts and finishings. She develops fabrics for interior use ranging from velvets and heavy upholstery to sheers and manages seasonal interior textile collections both for the residential as well as for contract market from research and initial concept through technical and creative development to final quality decisions and colour coordination.
"I prefer a hands-on and practice-led design process. My interest in the technique and its possibilities lead me to start the work at a mill by understanding the feasibility of different techniques based on the machinery and its potential. These technical frames for design work inspire and push to innovations."
Salolainen's past positions include working as creative director for the Mumbai based Indian mill GM Fabrics in 2016-2018 guiding a team of 30 designers in developing new concepts, products and collections for international brands and interior textile editors as well as GMF in-house brands. gmfabrics.com
Salolainen worked as the creative director of the Indian interior textile brand and retail organisation F&F in years 2011-2015. Her responsibilities included the development of the brand and the visual profile of this growing company as well as strategic portfolio management, conceptualisation and development of the collections and research, design and development of new qualities. The fabrics designed by Salolainen's design team are developed and produced by textile mills in India, Europe and China. F&F fabrics can be found in private and public interiors around India. fandf.online
In addition to textile design related work Salolainen has also been involved in other design projects such as the stainless steel surface design project for Kone and Outokumpu in 2011.
In the beginning of her career, Maarit Salolainen worked as an artist exhibiting in galleries and museums as well as a designer working with a network of European textile companies and weaving mills. After this she started to focus more on industrial and commercial textile design as well as collection making, product portfolio management tasks and strategic design work.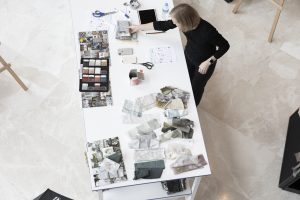 Maarit Salolainen started her professional career inside the textile industry in 2003 as the design director of Backhausen Interior Textiles, an internationally recognized Austrian jacquard mill. During her three years at Backhausen she was in a fortunate position to deepen her expertise in woven structures, materials, qualities of fabrics and collections, as well as technical requirements for residential and contract textiles. As the head of the design team, she was responsible for the research and development for the new products as well as for the design and coordination of the interior fabric collections under the Backhausen and Wiener Werkstätte-collection brand. Backhausen is well known for it's Wiener Werkstätte Designs and a remarkable collection of other Archive designs.
Besides working on the Backhausen house-brand collections, Salolainen was responsible for the conceptualization and design of international customer collections. The connections to high-end interior textile companies and textile editors in Europe, the U.S and Asia expanded Salolainen's area of expertise. backhausen.com
In her subsequent position as design director for the Finnish interior textile editor Lauritzon's, a Finnish interior textile brand, editor and wholesale organization for high quality interior fabrics, Salolainen's responsibilities included the development of Lauritzon's collections and the research, design and development of new fabrics together with leading textile mills in Europe and Asia. Maarit Salolainen also developed the brand and visual profile of the company. Since joining F&F in 2011, Salolainen continued to work with Lauritzon's as an external consultant. www.lauritzon.fi
All photos: Eeva Suorlahti